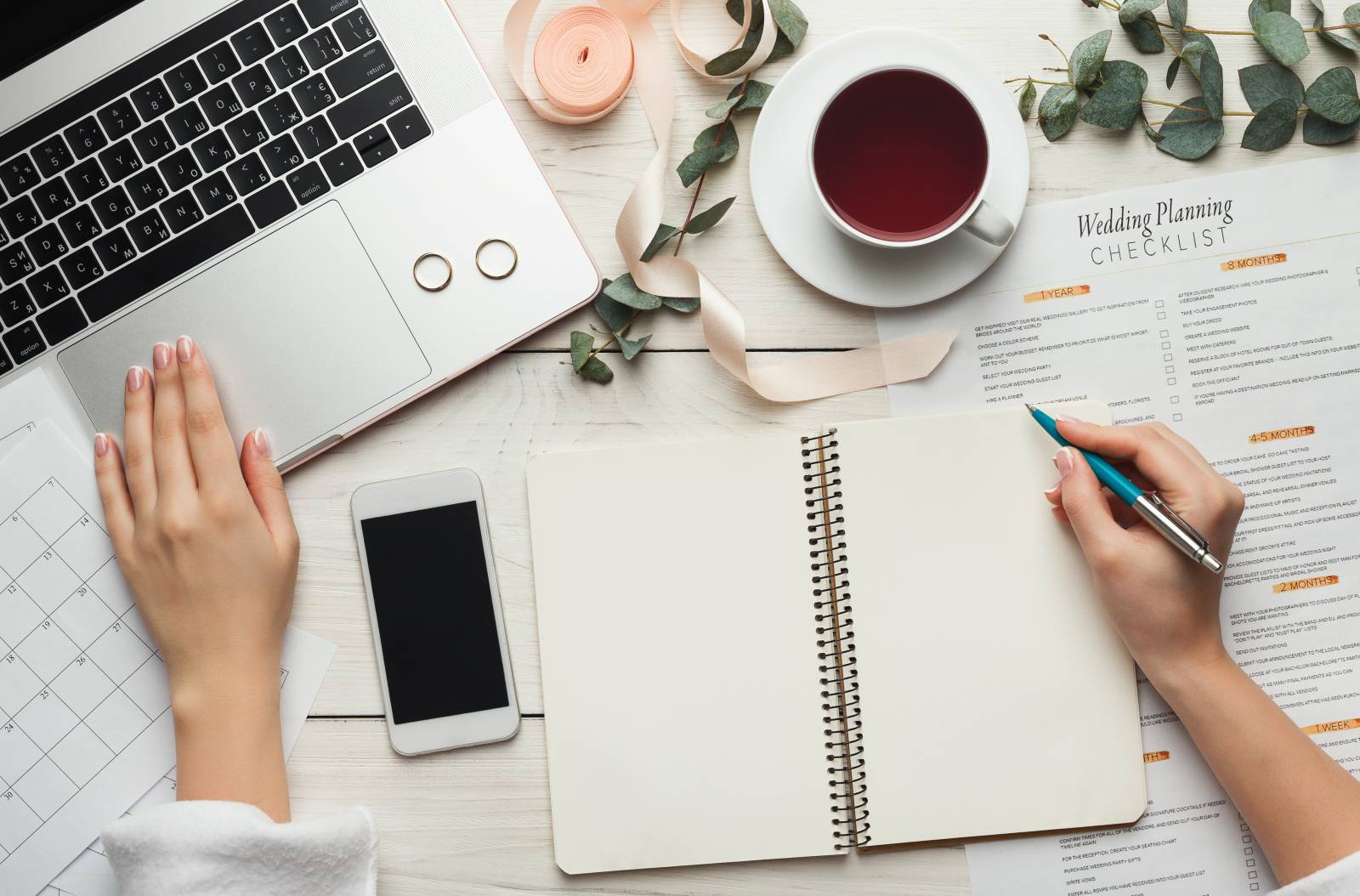 There's a lot to think about when planning one of the biggest days of your life– and now the effects of the coronavirus pandemic have added an unexpected obstacle. At this moment, there are numerous aspects of COVID-19 that could potentially change the planning approach of your wedding day. Unfortunately, the influx of news remains fluid and we're all in this together when we say nobody knows what's going to happen next.
Step 1: Take a deep breath, we're here to help
These are unprecedented times and it's important to remember that your family, friends, and vendors are here to support you and keep you enthusiastic about celebrating. We asked some of the wedding planners of Chalet View Lodge for their advice. Whether you're planning a wedding three weeks or eight months from now. Below, are our takeaways and what you need to know about getting married during the coronavirus...
Talk to Your Wedding Planner
Leann Logan (Wedding Planner, Chalet View Lodge) admits that many of her couples have shown anxiety surrounding their wedding date. From her experience and close-knit relationship to many of the Lost Sierra Wedding Vendors, she assures couples that most companies are willing to reschedule and work with couples to limit cancellations.
Sitting down and revisiting contracts regarding the details of cancellation or postponement with all of your vendors will help to educate you and your fiancé about potential liabilities. Be transparent and authentic about your concerns with all of your vendors and keep in mind we're all here to help you celebrate saying "I do."
What to Ask Your Wedding Venue
Early Spring weddings are being forced into fall and winter dates; couples may be second guessing their wedding design ideas to mimic the newly scheduled season. Paulette Alkire (Lead Wedding Planner, Chalet View Lodge) suggests that you embrace the new season you find yourself in and to remember that you designed your wedding to embody your dream wedding. Design and details are meant to be the aesthetic of your personality and that shouldn't change due to a rescheduled date.
Her venue, Chalet View Lodge, is also reassessing certain restrictions on a case by case basis. Decisions regarding potential rescheduling/cancelled weddings within a month period have been handed off to the couple
But remember, do not make hasty decisions. Ensure that you are properly educated on current mandates before acting out of anxiety - It is ok to press pause.
Many venues are willing to work with the couple (within reason) to ensure that their big day goes off without a hitch. Also, make sure to reread your venue contracts as well your wedding insurance policy for a further description of accountabilities.
Here are some top questions to discuss with your venue right now:
What fees are associated with postponing or canceling your wedding?
What available dates do you have for potential rescheduling?
If we reschedule our wedding to a new season, what are our options in terms of ceremony and reception locations on-site to combat the respective weather?
In the event that the venue is temporarily shut down, what is the best way to contact you?
In response to COVID-19, is there anything that the venue is doing differently?
What to Ask Your Photographer & Videographer
Cancellation policies are built into every vendor contract. However, how logistics play out in reality has been interesting to say the least. Keep in mind: Cancellation policies were designed for one wedding to be affected due to natural disasters. Policies were not created with the concept of an entire wedding season needing to be postponed. Keep in mind: most Lost Sierra Vendors are small businesses and rely on the revenue of each individual wedding to remain in business.
Independently owned businesses encourage you to be flexible in your rescheduling in order to keep deposits intact. Cancelling a wedding could have a huge domino effect on how it will impact your vendor's businesses. Cancellation should be a last resort.
Here are some top questions to discuss with your photographer & videographer right now:
What is your reschedule/cancellation policy?
What are the fees associated with rescheduling?
What available dates do you have for potential rescheduling?
Can we apply our deposit to a new wedding date?
We planned a destination wedding. Will you still feel comfortable traveling?
What to Ask Your Caterer
Mattie Taylor (Wedding Planner, Chalet View Lodge) reiterates the message of her favorite caterer, Blend. Take a deep breath and maintain the perspective that this pandemic does not change the fact that you still plan on marrying the love of your life. You may need to change your initial date, but the wedding is still going to happen. While caterers are worried about business, they still want to ensure their clients comfort in the execution of their dream wedding. Also, be open to adjustments your caterer may suggest. For example, will a spring menu still be appropriate for a reschedule December wedding?
Here are some top questions to discuss with your venue right now:
What fees are associated with postponing or canceling your wedding?
What available dates do you have for potential rescheduling?
Will you be changing the way you present and serve food?
If our original guest count lowers because of COVID-19, can we pay based on the new count or will you charge the original amount?
If we reschedule, will we have to completely change our wedding menu?
What to Ask Your Florist
Nothing is more important than maintaining patience and compassion for the world right now. Keep in mind that florists tend to be independently run businesses and may import their products from all over the world. They may be handling their own specific logistic challenges at this time. We can't all have the deep knowledge that goes into creating a stunning floral display, let alone particular textures, colors, and accents dependent on season and we rely on their expertise. Have a candid discussion with your florist in regards to your previously discussed proposal and how to incorporate more accessible pieces into your design. It doesn't hurt to have an authentic conversation about your floral design, but keep in mind that information is fluid and your vendor might not have the answers right now. Love is the flower you've got to let grow.
Here are some top questions to discuss with your florist right now:
What happens if we decide to postpone or cancel our event?
Where are our chosen flowers coming from?
Do you foresee an issue sourcing our chosen flowers?
If so, will you work with us to pick different flowers that are available?
Can we apply our deposit to a wedding date?
It's important to give ourselves permission to hold off on major decisions – we have plenty of time.
Sometimes in life things that are out of your control can overwhelm you. There is nothing more intense than the fear of the unknown. Sometimes the only thing you can control is how you react to uncertainty. At this moment in time, history is being made and we hope that we will be able to look back and say that we handled this situation with grace and compassion. We truly are in this together and encourage our community to keep their hearts full and lift each other up, rather than resorting to cutting off one another based on fear.
A wedding marks a new chapter to be filled with love, growth, and maybe a little bit of magic. Right now, the most important thing is to take a deep breath, lean on your vendors, celebrate your love, and hold on to that magic.